Versatile Vinyl Flooring in Marrero, LA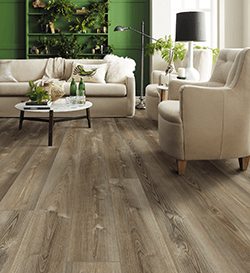 Refresh your space's style with a wide variety of vinyl flooring in Marrero, LA. At Acadian Flooring America, you'll find everything you need to upgrade and craft a look that's sure to impress. Our showroom features some of the finest vinyl options on the market and access to a comprehensive collection of flooring knowledge in the form of our trusted team members.
Whether you're revitalizing a recently purchased property or building an addition to accommodate your growing family, we're here to help you take advantage of one of the industry's most customizable materials. Visit us today to browse the best brands for both classic appeal and trending beauty.
Why Choose Vinyl?
From vinyl tile flooring to easy-install sheet options, our materials matter because they give customers a way to achieve top looks for less. Delivering resilient luxury and lifelike representations of natural materials like wood, vinyl offers something more than a low-maintenance, wallet-saving solution.
Our products are durable, capable of standing up to heavy foot traffic in commonly traveled areas of your home and help to reduce the building's overall noise profile. The result? When you choose our vinyl, you get a home that's more valuable, more comfortable to live in, and free from constant, nagging upkeep requirements.
That freedom means more time on your hands and fewer worries about actually living on and around your floors. Are you hosting this year's holiday feast? No problem -- your floors can handle the visitors. Want to make your home a welcome place for foster pets? Our vinyl sheet flooring makes handling messes simple.
For any family, we're the name to know when you need new floors. We're more than a well-stocked store, however. At our location, you can discover rounded solutions for all your needs thanks to our unique service experience.
A Crafted Customer Focus
Investing in new flooring is a big decision. You deserve to know all the details long before the first sheet rolls out, or the first tile is placed. That's why we've committed to hiring and training the area's most accessible and attentive floor experts. These professionals can assist you with everything from informed brand comparisons to vinyl flooring installation.
We can even lend a hand if you're interested in furnishing your floors with a little something extra, like a unique area rug. Whatever project you have in mind, make us your first stop for all your flooring needs.
Contact us today to learn more about how vinyl can revolutionize your flooring experience. We proudly serve Marrero, LA, and the surrounding areas.