Impressive Luxury Vinyl Plank Flooring in Marrero, LA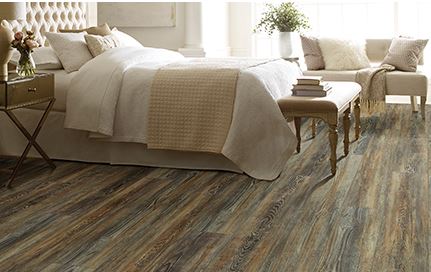 When it is time to update your property with attractive new flooring, visit the showroom at Acadian Flooring America. We stock everything you need to get your remodeling project on track for success, including the biggest selection of luxury vinyl plank flooring in Marrero, LA. This durable material is available in a variety of different styles, so you are sure to find the one that best fits your design preferences.
Why should you consider luxury vinyl floor tile? Well, through the advancement in flooring technology, vinyl flooring has transformed itself from one of the most durable, but plain, flooring options to something that delivers just as much style as it does strength. Today's vinyl planks have increased their popularity thanks to their ability to flawlessly duplicate the look of authentic hardwood while still delivering the moisture-resistance that vinyl is known for having.
What's more, vinyl planks are one of the most cost-effective flooring solutions on the market today. That means you can get more out of your project's budget while still creating that amazing look you want simply by choosing luxury vinyl plank flooring.
Luxurious & Resilient Vinyl Floor Planks
Besides its attractive appearance, luxury vinyl also offers the remarkable durability homeowners have come to expect from vinyl flooring. Engineered to last, vinyl floor planks withstand wear and tear, resist moisture and stains, and continue to look as good as new after years of heavy foot traffic. Vinyl planks are truly an investment in your property that will yield long-term satisfaction.
Do you have children or pets in your household? Then luxury vinyl plank flooring is the perfect option for you. This flooring is an easy-to-clean, low-maintenance home improvement. Enjoy the easy life with this eye-catching flooring that retains its visual appeal with a minimum of effort.


The Right Look for Any Preference
Today's impressive production techniques allow for luxury vinyl floor tile that imitates the appearance and texture of more expensive materials, such as porcelain and stone as well as wood. Our wood-look vinyl flooring, for example, is a very popular choice among homeowners thanks to its ability to perfectly reproduce the graining and color of many different wood varieties. So whatever design you have in mind, you will find an attractive luxury vinyl option to match it.
Just speak to any of our knowledgeable and friendly store associates and we will sit down and listen to what your ideas are for your space. This allows us to guide you in the right direction. Besides having the largest selection, we also have access to the buying power of our national network, so we have the most affordable prices as well. So make the smart choice when it comes to updating your flooring by working with us.
Professional Luxury Vinyl Flooring Installation
From the start to the finish, our team wants to deliver a superior customer service experience to you. That is why, after we help you find the floating vinyl plank floor or other style that is best for you, we offer our professional installation service. Our skilled installers ensure that your new floor is correctly installed for optimized appearance and longevity.
Give your interior design a makeover by coming to us for your vinyl floor planks, carpet, laminate, and other flooring needs. We appreciate the opportunity to work with you on your next project. Don't forget to inquire about our luxury vinyl plank flooring installation either!

Contact us for more information about the different benefits of luxury vinyl flooring. Our team looks forward to working with customers located throughout the Marrero, Louisiana, area.