The Hassle-Free Approach to Bathroom Remodeling in Marrero, LA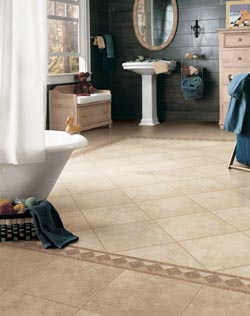 When it's time to improve the aesthetic appeal and value of your bathroom, pay a visit to Acadian Flooring America. We are your headquarters for bathroom remodeling in Marrero, LA. At our showroom, you will find the materials and resources you need to plan and implement a successful project. Our extensive product selection, knowledgeable associates, and installation services ensure your project gets beautiful and long-lasting results.
Bathroom remodels don't have to be complex. Come to our showroom and work out the details with us. Our location features samples of a variety of remodeling mainstays, such as flooring, faucets, fixtures, and waterproofing materials. From planning to implementation, we're with you at each step. We can even facilitate installation services by professional home renovation contractors. With us at your side, changing the look and appeal of your bathroom has never been easier.


The Benefits of Remodeling Your Bathroom
One of the most frequented and utilized spaces in your home would have to be the bathroom. With this in mind, it makes sense to make improvements to this area. An old bathroom with worn down surfaces and fixtures can seriously hamper how you prepare for the day--not to mention, it can leave a sour impression on guests. Updating your bathroom with new countertops, cabinets, and backsplashes can transform this space and make it feel like new.
Naturally, a neat and new area leaves an impression. Bathroom remodeling projects are a great way to elevate the aesthetic appeal--and value--of your home. If you are planning to list your property on the market, revitalizing the kitchen or bathroom can be a smart idea. After all, prospective home buyers may take your offer more seriously if they see you've made meaningful improvements.
The bathroom is part of your home, and you deserve a space that reflects you as a property owner. Investing in a custom renovation provides the opportunity to create a space that reflects your style. You never have to settle for cookie-cutter designs or motifs. Remodeling projects are a great way to craft spaces you will enjoy using.


We Make Your Bathroom Project Easier
At our showroom, we empower you to explore your options, plan the details, and make the adjustments that matter. We showcase hundreds of products, including faucets, tiles, sinks, and countertops. Of course, we also offer different flooring options, such as luxury vinyl and ceramic flooring. The popular brands are at our showroom, such as Schluter-KERDI.
It all begins with a consultation. Our knowledgeable and experienced associates will work with you, learn about your project goals, and provide the solutions to help you attain them. We also connect you with seasoned home renovation contractors to ensure your project goes smoothly.



Contact us and arrange a consultation for bathroom remodeling services. We serve property owners throughout Marrero, LA, as well as Westwego, Avondale, Harvey, and the New Orleans Metro area.