Complete Your Interior Design with Area Rugs in Marrero, LA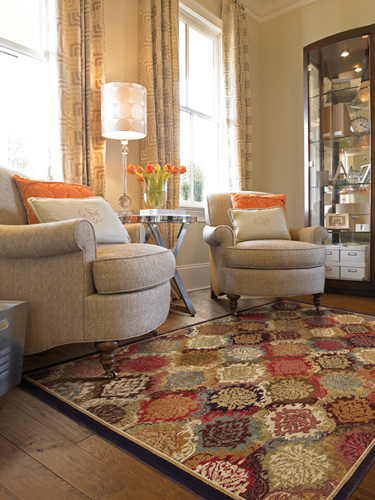 Acadian Flooring America is your source for area rugs in Marrero, LA. At our flooring showroom, you will find the products and assistance you need to create the perfect look for your rooms. Thanks to our wide selection, finding the right pieces to complement your decor will be easy and rewarding. Visit our showroom to browse our extensive selection of rugs.
Our location features a stunning showcase of area rugs, available in different sizes, textures, colors, and designs. We even offer binding tools that protect the appearance and longevity of your rugs you may already own. We've teamed up with the leading manufacturers to offer pieces that will complement your existing interior design perfectly.


The Benefits of Area Rugs
Areas rugs are a great addition to virtually any space. It is a smart way to incorporate variety and depth to your interior design, all without investing in completely new flooring. You have the flexibility to establish a distinct ambiance with area rugs, as they are available in many different shapes and sizes.
For example, imagine that you need to decorate a large common area, such as the living room. You are in love with your luxury vinyl flooring. Adding a large area rug to the center of the room will add a sense of depth and texture to the space. Better yet, a large rug does wonders for establishing an impromptu play place for children.
Do you have long hallways and corridors in your home? A long area rug provides a soft and pleasant underfoot feeling to these spaces. Rugs can also assist in preserving the integrity and longevity of solid surface flooring by acting as a barrier against scuffs and scrapes from shoes.
Likewise, runners are a special type of area rug that goes well on stairways. The texture of these items provides a solid footing, which may reduce the risks of slips and falls while going up and down the stairs. From safety to aesthetic appeal, rugs are a sensible addition to your interior design.


Custom Area Rugs Available
Take your interior design to the next level with custom area rugs. Our showroom gives you the power to create what you want. We will collaborate with you to create pieces that go well with your interior. From the size and shape to the design and colors, you are in control of every aspect of the creative process. Arrange a consultation with one of our associates and create the centerpiece for your favorite space.



Contact us and arrange a consultation for area rugs. We serve property owners throughout Marrero, LA, as well as Westwego, Avondale, Harvey, and the New Orleans Metro area.